Covid-19 vaccination
Sinovac, BioNTech and BioNTech Bivalent vaccine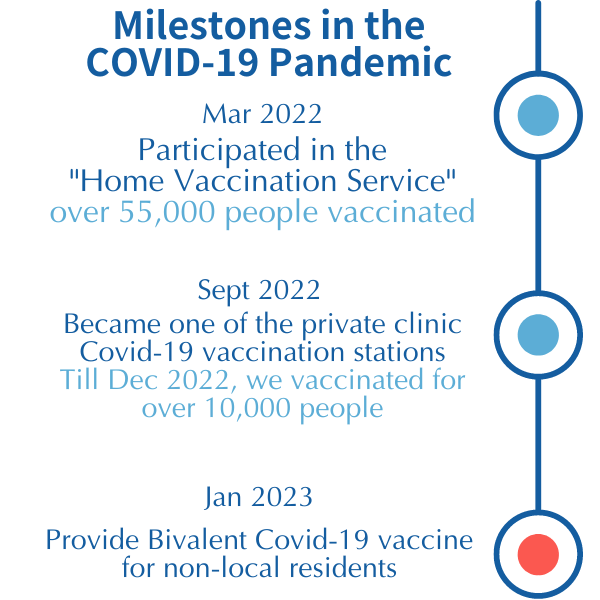 Vaccination outreach programme
To fight against the pandemic, Asia Medical Specialists began to engage in community outreach services as early as March 2022. We are honoured to participate in the "Home Vaccination Service" launched by the Hong Kong government, in which over 55 000 vaccine doses have been administered to elderly persons aged 70 or above and persons who have difficulties going out for vaccination due to illness or disability across the territory.
Private Clinic Covid-19 Vaccination Station
Our clinic has also become one of the first batches of 15 designated private clinic Covid-19 vaccination stations in September, providing Sinovac and BioNTech COVID-19 vaccination services for Hong Kong residents. Until December 2022, the clinic has vaccinated over 10,000 people with the Covid-19 vaccine.
Bivalent Covid-19 vaccination for non-local residents
Since Hong Kong and the Mainland have started to reopen the border, and the government has approved extending the vaccination service to non-local residents, our clinic is now providing BioNTech bivalent vaccination services for non-local residents.
Pricing (include the BioNTech Bivalent vaccine and administration fee, no additional charge)
•One person: HKD1,800*

•Three people or more: HKD1,680*

*You are welcome to book with our clinic staff directly (no additional fee applies). You can also visit our E-platform directly to secure your slot.
For appointment or enquiries, don't hesitate to email info@asiamedical.hk, call +852 2521 6830, WeChat (ID: asiamedical_2) or whatsapp to contact us.
---------------------------------------------------
About BioNTech Bivalent vaccine
What is the bivalent vaccine?
The bivalent vaccine is a vaccine booster developed by BioNTech for Omicron mutant virus strains BA.4 and BA.5. Bivalent means that the vaccine contains two antigens, one for the original Covid-19 virus and the other for the mutant virus strain BA.4 to 5. According to the clinical data provided by BioNTech, after being vaccinated with the bivalent vaccine, antibodies against Omicron mutant strain BA4 to 5 increased by 13.2 times compared with that before the injection.
What are the side effects of the bivalent vaccine?
Like all vaccines, the BioNTech bivalent vaccine may cause side effects, but not all people will experience side effects. The side effects that the bivalent vaccine may cause are similar to those of ordinary BioNTech vaccine and generally include pain at the injection site, swelling, fatigue, headache, muscle pain, etc.
For more details, please refer to the vaccination fact sheet: https://www.covidvaccine.gov.hk/pdf/COVID19VaccinationFactSheet_Comirnaty_ENG.pdf
Is the bivalent vaccine suitable for me?
If you have ever had an allergic reaction to the following vaccine's active substances or other ingredients, you should not receive the BioNTech Bivalent Vaccine.
•Sucrose

•Cholesterol

•Water for Injection

• Trometamol / trometamol hydrochloride

•-[(4-Hydroxybutyl)azadiyl]bis(hexane-6,1-diyl)bis(2-hexyldecanoate)(ALC-0315)

•-2-[(Polyethylene glycol)-2000]-N,N-tetracosylacetamide (ALC-0159)

•-1,2-Distearoyl-sn-glycero-3-phosphocholine (DSPC)
The government recommendation on the Covid-19 vaccination timeline: https://www.covidvaccine.gov.hk/pdf/Third_dose_supplementary_sheet_ENG.pdf